Sacramento Asbestos Lawyers
Put Decades of Experience in your corner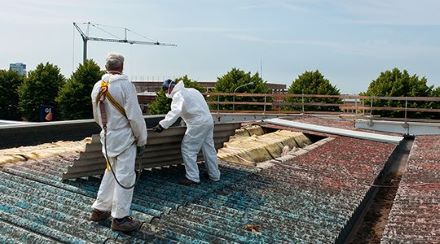 At one time, asbestos was a wonder product— a cost-effective heat insulator that got the job done. It was used as insulation in almost every kind of building possible, including schools, commercial buildings and residential facilities. It was also used in the manufacture of ships, locomotives and aircraft brakes.
Times change. Many people who worked with asbestos became very ill. This included almost anyone who touched the product directly, including brake manufacturers, aircraft manufacturers and those in the locomotive and ship manufacturing industry. It is now widely known just how dangerous asbestos is, and one by one, the manufacturers and distributors who put asbestos into the stream of commerce are being held accountable. Our knowledgeable Sacramento asbestos attorneys have been, and continue to be, a part of that effort.
Asbestos Exposure Effects
Asbestos exposure can have very serious consequences. It is linked to arrange a very serious and often deadly conditions including:
Lung cancer
Mesothelioma
Pleural plaque (fibrosis on the inner surface of the rib cage and diaphragm)
Asbestosis
Asbestosis
Asbestosis is a serious, chronic respiratory disease that begins with inhaled asbestos fibers. As these fibers become lodged in the lungs, they create scar tissue and diminish the lungs' capacity. Symptoms of asbestosis include shortness of breath, chest pain and fatigue. The disease may eventually cause cardiac failure as it becomes more advanced. It is often seen in patients who already have cancer (mesothelioma) from their asbestos exposure.
Mesothelioma
Mesothelioma is a rare form of cancer which invades the mesothelial cells. These are specialized cells in the membranes which line the chest and other areas of the body. Asbestos exposure is the main cause of mesothelioma. Asbestos fibers are very tiny and are inhaled if they become airborne. Once you inhale asbestos fibers, they can remain trapped in your lungs. They may also distribute to the pleura (the membrane lining the lungs.)
Pleural mesothelioma often takes decades to develop. Patients with this type of cancer may first experience difficulty breathing, as well as pain in the lower back or at the side of the chest. Other mesothelioma symptoms include difficulty swallowing, hoarse voice, sweating and fevers.
Take Action Against Asbestos
If you are suffering because of exposure to asbestos, take action. The Sacramento asbestos lawyers at our law office can take care of every aspect of your personal injury case. We will investigate the cause of your asbestos exposure and will locate every responsible party. We are strong negotiators, but if trial is necessary to achieve justice in your case, we will not hesitate to take your asbestos case to trial.