Pedestrian Accident Attorneys in Sacramento
We Feel Your Pain and We Are Here to Help.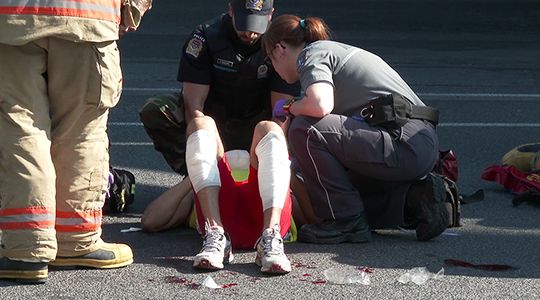 As one saying goes: "Stop, look, listen then cross. If not, your life could be lost." There you were, crossing the street in the cross walk, minding your own business and out of nowhere you are struck down by a careless or inattentive driver.
Pedestrian accidents involving motor vehicles are often significant life altering events but they happen every day in California. From pedestrian heavy downtown areas to residential streets where children play, countless Californians are injured in pedestrian accidents throughout the state. The fatality rate has continued to rise since 2009.
Interestingly, each year since 2009 the highest number of deaths and injuries in pedestrian accidents was suffered by individuals between the ages of 45 and 54.
Pedestrian accidents are much more serious than other traffic accidents because the human body simply cannot withstand the impact of a motor vehicle in the same way that another motor vehicle can. An experienced Sacramento pedestrian accident lawyer knows how to present these points to insurance companies and courts to obtain maximum compensation for their clients.
We aggressively represent clients who have been injured in pedestrian accidents. Call (916) 525-7761 today for a free case evaluation.

What Should I Do After a Pedestrian Accident?
We understand what you are feeling after a pedestrian accident and how overwhelming it can be. We know that getting "back on your feet" is your top priority.
We want to help you recover your health and self-reliance as quickly as possible. We don't just talk the talk, we want you to walk the walk-again. It may take time, but things will get better.
You should treat a pedestrian accident the similarly to the way you would treat a motor vehicle accident:
Contact the appropriate law enforcement agency to respond to the scene and have them prepare a traffic collision report.
If you think you may have been injured in any way, call for an ambulance and seek medical treatment immediately.
Do not leave the scene of the accident until you have obtained information about the driver of the vehicle that struck you, including names addresses and phone numbers and automobile insurance information.
It is very important to get the contact information of any witnesses to the accident. This is because many motorists will claim they didn't see the pedestrian prior to the accident. If other pedestrians were in the crosswalk for example they might be able to remember if the traffic light indicated it was safe to cross at the time you cross the street or the car that hit you stopped for a red traffic light.
You should not discuss the pedestrian accident or your injuries with anyone other than the Police Department emergency personnel and your doctor and lawyer. Do not speak with the driver's insurance company regarding the accident or your injuries. NEVER submit to a recorded statement.
Can a Pedestrian Be at Fault in a Car Pedestrian Accident?
Although not common, a pedestrian can be at fault for a car pedestrian accident since they are also required to follow the rules of the road when entering or crossing the road. Some of the most common scenarios where a pedestrian can be found at fault are:
A pedestrian was crossing against the traffic signal
A pedestrian was crossing the road outside a crosswalk
A pedestrian was walking where pedestrian access is clearly not allowed
Determining pedestrian accident liability can be a complex process. There are many factors that may need to be considered. If you have been injured in an accident, contact our firm today. Our pedestrian accident attorneys are ready to help you.
Hire a Team That Knows Your Rights
Pedestrians still have rights if they are struck while crossing near an intersection even if there was no marked cross walk. In fact, California Vehicle Code section 21950 (a) protects pedestrians crossing the street in marked and UNMARKED crosswalks.
In addition, just like if you are struck by an uninsured driver while on a bicycle, if you are a pedestrian and the responsible party has no auto insurance, you may still be able to have your medical bills paid under the "med pay" provision of your own auto insurance policy.
Our Sacramento pedestrian accident attorneys know the rights of pedestrians and how to address them to obtain the damages our clients deserve.
These are serious accidents, do not go into court without experienced representation. Call (916) 525-7761 to schedule a free consultation today.