Truck Accident Attorneys in Sacramento
Trusted & Experienced 18-Wheeler Accident Lawyers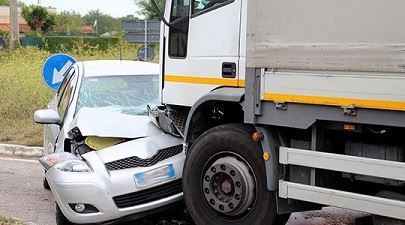 Truck accidents are different from all other types of motor vehicle accidents for many reasons. The primary reason is that semi-trucks are so much larger than any other type of vehicle on the road which can lead to catastrophic injuries for motorists unfortunate enough to get in an accident with an 18-wheeler.
A Sacramento truck accident lawyer will be vital to your case as the litigation in these proceedings can be extremely complex, and the opposition will have powerful representation to protect their assets.
Truck accidents also involve complex matters of state and federal law. In addition to the regulations set by the California Department of Transportation, trucking companies and truck drivers are subject to federal rules and regulations. These regulations impact all aspects of the trucking industry, from the size and weight of a semi- truck to the maintenance and preservation of records.
How They Happen and Who is Responsible
Litigation in a truck crash is typically more complex than other motor vehicle accidents. The responsible party may be the driver, the company that owns the tractor, a separate company that owns or leases the trailer, or some combination of the above. Since multiple defendants may be involved, determining which ones are responsible for the damages and injuries requires skillful representation by your lawyer.
There are many reasons truck accidents occur. In Central California, including Interstate 5, bad weather and fog often play a role. As trucks travel along Highway 50 and Interstate 80 in the Sierra, they can be involved in accidents involving snow or ice. Overloaded trucks, tire blowouts, or other equipment failure can also lead to a truck accident.
Who is Liable After a Truck Accident?
Determining liability in a truck accident isn't as straightforward at determining liability in other motor vehicle accident cases since there are many possible liable parties. In some cases, more than one party can be held liable for a single accident. Among the possible liable parties, the three most common individuals or entities found responsible are the truck driver, the trucking company, and the truck manufacturer.
The Truck Driver
A truck driver is often held responsible if their behavior or negligence led to the accident. In some cases, the driver is also held accountable if they own the truck that caused the accident.
The Trucking Company
Most often the trucking company is found liable for an accident since they are often caught encouraging their drivers to break trucking rules and regulations in order to help save their company money.
The Truck Manufacturer
If the accident was caused by a defective part or fix then the truck manufacturer may be held liable.
Whatever caused your accident, our attorneys have the experience and knowledge to investigate your claim in order to hold the correct parties accountable for their actions. Our team of attorneys is ready to fight for you, contact us today to learn more.
What Are the Hours of Service Regulations?
Because of how much damage a truck can cause to another vehicle in an accident the FMCSA has many regulations for truck drivers that aim to reduce the chances of an accident happening. The hours of service regulation are one of these rules that are specifically aimed at preventing fatigued driving. According to these rules truck drivers:
Can only work a maximum of a 14 hour shift.
Rest or take meal breaks totaling 3 hours in their work day.
Must rest for at least 10 consecutive hours at the end of the workday.
Truck drivers must take days off work at regular intervals. These days off are depended upon the trucking company's hours of operation.
Achieving the Best Possible Result Through Exhaustive Trial Preparation
At Miller Injury Attorneys we conduct a thorough investigation into the complex facts and laws which affect your case. Our Sacramento truck accident lawyers have what it takes to achieve the best possible results for our clients – in-depth knowledge of the law and the skill necessary to take decisive and effective action.
Hear it From Our Satisfied Clients!
John Miller was a Godsend to me through a very difficult time. John was able to negotiate a settlement with two parties and give me the ability to be made "whole". I highly recommend John to anyone as he is honest, prepared, knowledgeable and kind.
We are always ready to go to trial to fight for our clients. Big companies do not scare us. Call (916) 525-7761 today for a free case evaluation.