Sacramento Premises Liability Attorney
When Injuries Occur on Private, Public or Commercial Properties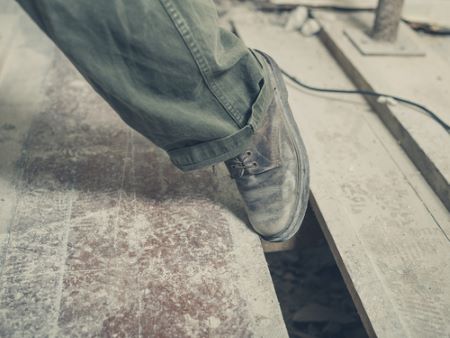 When a person is injured on the property of another, it may be possible to bring a successful premises liability lawsuit. Property owners and/or managers have a duty to maintain a safe property and may be held accountable for failing to do so.
Headquartered in Central California, our Sacramento premises liability attorneys serve injured people in premises liability cases throughout the state. Whether inside a restaurant, hotel, shopping center, bar, outside on a sidewalk or in a parking lot, we have the skill and resources necessary to achieve favorable results.
Having previously represented both defendants and their insurance companies in premises liability and other types of injury cases, Miller Injury Attorneys' lawyers have experience successfully handling these actions from both perspectives. From our past representation of defendants and their insurance companies, we have an insider's view of the strategies frequently used by the other side. Our perspective helps us maximize the result we achieve our clients' behalf. Premises liability can cover a broad range of subjects including slip and fall accidents, toxic mold growth, and exposure to asbestos.
Call (916) 525-7761 and tell us about your premises liability case. We provide free case evaluations both over the phone and in person.
California Slip & Fall Accidents
Many thousands of people are injured in slip and fall accidents each year in the United States. These accidents occur in commercial spaces such as hotels and restaurants, industrial settings and in private homes. Depending on the circumstances, the property owner may or may not be liable for the harm caused. Under California law, an owner of property is typically responsible for injuries occurring on the property if they had noticed of or created the condition that caused the injury.
At Miller Injury Attorneys, our Sacramento personal injury lawyers hold property owners accountable for the slip and fall injuries they cause. When property owners failed to maintain or repair their property in a safe condition, we take action by filing premises liability lawsuits.
When we take your premises liability case, you can count us to prepare your case for trial from day one. Attorneys at our Central California law firm investigate each element of fact and law applicable. We look to see if the owner of the premises caused the dangerous condition that led to your accident. We determine whether the owner knew – or should have known – of the conditions, and if a reasonable person should have discovered the dangerous condition before the slip and fall accident occurred.
Our inquiry often involves visiting the scene of the accident, talking with witnesses, and consulting with experts. In addition, we review medical records related to the injury and talk with experts about the expected long-term impact of the injuries on your life.
Slip & Fall Injuries
Some slip and fall injuries are very serious, including back and neck injuries, paralysis, fractures and broken bones, and head and brain injuries. Others may not be a serious but can still cause lasting pain, and adversely affect your daily life. If you have been injured in a slip and fall accident, it is important to seek medical attention for your injuries. We understand your health should be your first priority.
As a result, we focus on managing every aspect of your premises liability lawsuit for you. We take on the burden of litigation so you can focus on what is most important to you – recovering your health.
Negligent Security/Failure to Prevent Dangerous Conditions
Our attorneys can also represent people injured on various properties due to the failure to properly provide security or guard against dangerous conditions and individuals. Premises owners and managers are responsible for attacks, robberies or rapes that occur on their properties if the likelihood of criminal activity is reasonably foreseeable.
These negligent security cases are often difficult ones, and investigation and thorough preparation is necessary for successful results. The main issue is whether the property owner had prior knowledge of the potential for the attack or criminal conduct of the third person that caused the injury.
We investigate every element of fact and law which could impact your case. We determine if the owner knew – or should have known – of other violent incidents occurring on the property, or if a reasonable person should have discovered the situation, increased the security as a result, or warn visitors.
Our inquiry may involve visiting the scene of the attack, talking with witnesses and consulting with experts. Our attorneys also review medical records related to the personal injuries sustained. When necessary, we discussed the expected long-term impact of injuries, both physical and psychological in nature, with our experts.
Call Us if You Have Been Injured on Someone's Property in Sacramento or El Dorado Hills
If you have been attacked or injured on the property of another, immediate investigation into negligent security is often the most important key factor to recover full compensation for your injuries. Enlisting an experienced Sacramento personal liability attorney could mean the difference of thousands of dollars for your case.